1,400 Varieties. Best Seeds. Best Packaging. Best Selection. Best Prices
FREE Shipping on all orders over $50!!
Once you experience Everwilde's exclusive GOLD VAULT Packaging, you will never go back to Paper or Plastic!!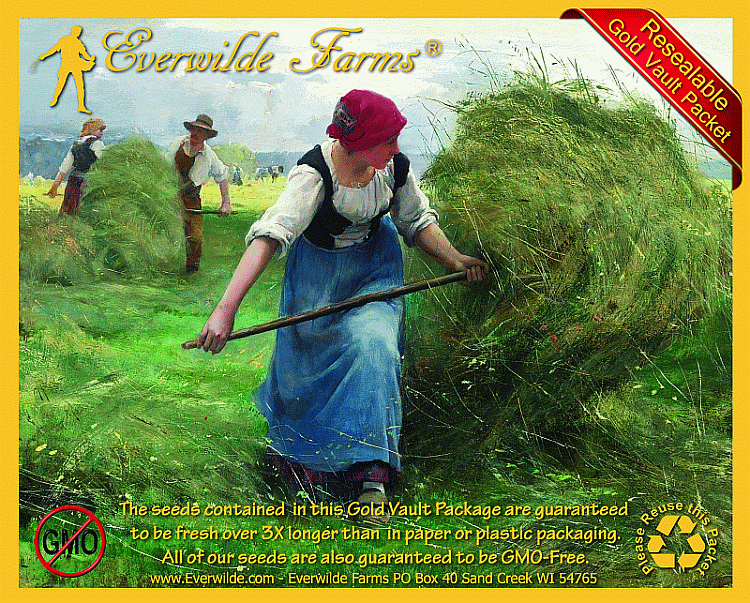 "Seedtime and Harvest" Seed Kits are Now In!
We have partnered with Seedtime and Harvest Garden Kits to bring you the latest in vegetable seed kits. These kits have been put together with a lot of care, and you will find the value to be unmatched in the amount of stuff you get with one of these seed kits. It contains everything that you need to grow a great GMO-free garden this year! The Seed Kits come in various sizes and there are even some specialized kits with everything that you need to grow a pickle garden or a salsa garden. Give these kits a shot, and you won't be disappointed!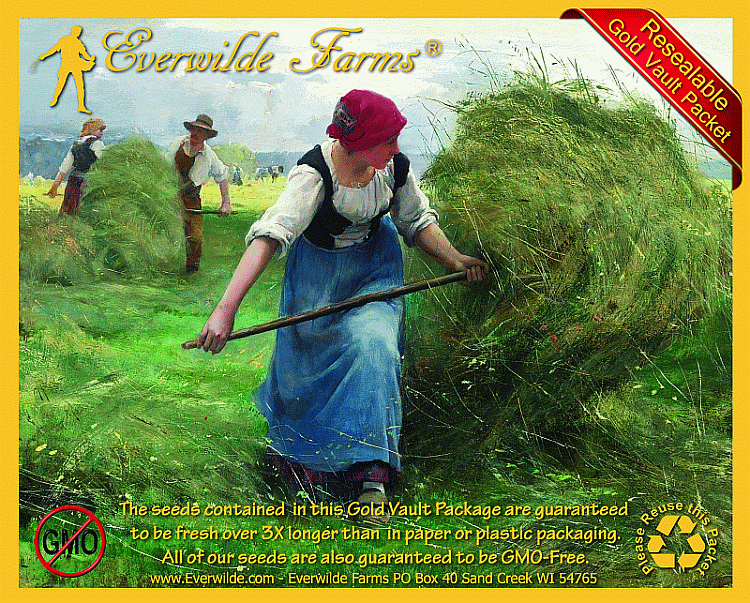 We have our Organic Certification! You can take a look at the varieties that we offer, by clicking the '
ORGANIC HERB
' tab and the 'ORGANIC VEGETABLE' tab. We have 250 Organic varieties of vegetables and hebs, and are always adding more.
There are about 40 varieties that we have in organic seed that we have never offered before. All seeds, organic and conventional, will be packed in our Exclusive '
GOLD VAULT
' packaging.

Have you ever wished for a seed packet that had a zipper seal and would store seeds effectively? What if it was also as beautiful as it was useful? It is here! The Gold Vault Packet is made of a Gold Foil laminated between two layers of glossy peasant artwork to create a moisture barrier bag that has been shown to preserve your seeds up to 3X longer than conventional paper or plastic packets do! The Packet was designed to meet the needs of the 21st Century gardener, while retaining the history and beauty of those who have labored to preserve those seeds for us. You would think that packaging like this would cost you dearly, but we are now using it on ALL ORDERS at NO EXTRA CHARGE!! It is our way of introducing you to a packet that you will simply love, and not be able to part with once the seeds are gone. No worries! The packet can be saved and reused to store seeds that you harvest from your garden!

We have many requests wondering whether our seeds are GMO free. We grow and sell only GMO-free seeds at Everwilde Farms. Most of our vegetable varieties are open pollinated (non-hybrid to enable seed saving) and the few varieties that are hybrid in the Sweet Corn and Cucumbers are clearly marked "hybrid". We think that you will find Everwilde Farms to be the best source for bulk open pollinated vegetable seeds and wildflower seeds on the web.