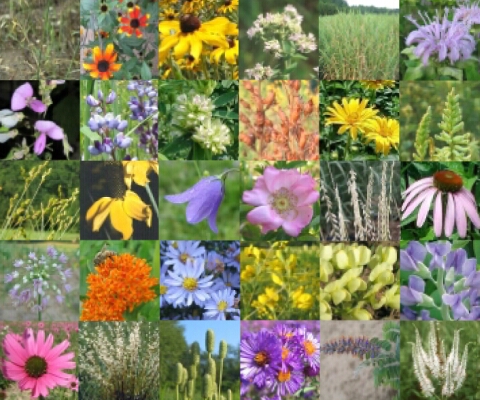 Native Wildflower Seed Mix – MESIC - Short Spring Mix

Many wildflowers and grasses gain enhanced germination from several months of cold condtions. Since many people do not want to take the time or effort to artificially treat the seeds for a spring planting, we came up with a wildflower seed mix that does not need any pretreatment! This wildflower mix is designed with shorter species, resulting in a planting about 4 feet tall. If you would like to take a more detailed look at this wildflower seed mix in chart format, click here.

This Mix Contains 25 Species of Wildflowers & 5 Grasses

Prairie Onion, Lead Plant, Thimbleweed, Butterfly Weed, Rice Button Aster, New England Aster, Canadian Milk Vetch, Blue Wild Indigo, Cream Wild Indigo, Yellow Wild Indigo, Harebell, Panicled Tick Trefol, Purple Coneflower, Tennessee Coneflower, Early Sunflower, Prairie Alumroot, Round-Headed Bush Clover, Wild Lupine, Wild Bergamot, Hairy Mountain Mint, Long-Headed Coneflower, Pasture Rose, Black-Eyed Susan, Red Sport, Culver's Root, Little Bluestem, Side-Oats Grama, Plains Oval Sedge, Upland Wild Timothy, Rough Dropseed.


© 2006-2014 Everwilde Farms, Inc. All Rights Reserved.