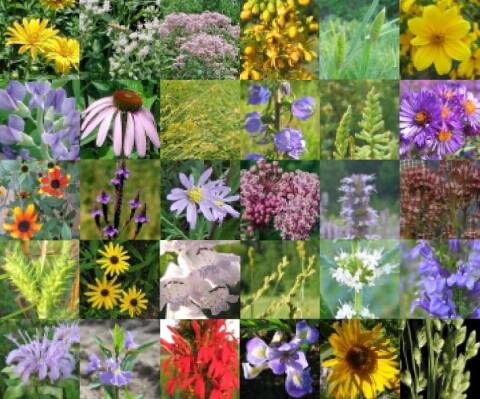 Native Wildflower Seed Mix – WET - Beside Still Waters

Create a paradise of serenity and beauty out of your wet areas! Everwilde blends flaming 'Cardinal Flower' with the gold 'Marsh Marigold' and periwinkle 'Blue Lobelia', accompanied by bold sprays of lavender, pink, and blue; all enveloped in lush foliage to perfect your planting. Invite Nature's artistic touch to paint a delightful picture of lasting beauty on your property. Soak yourself in radiance and quiet beside the still waters. If you would like to take a more detailed look at this wildflower seed mix in chart format, click here.

This Mix Contains 25 Species of Wildflowers & 5 Grasses

Anise Hyssop, Swamp Milkweed, Smooth Blue Aster, New England Aster, Canadian Milk Vetch, Blue Wild Indigo, Swamp Marigold, Tall Bellflower, Wild Senna, Purple Coneflower, Joe Pye Weed, Boneset, Maximillian's Sunflower, Early Sunflower, Northern Blue Flag, Cardinal Flower, Great Blue Lobelia, Wild Mint, Monkey Flower, Wild Bergamot, Narrow Obedient Plant, Sweet Black-Eyed Susan, Red Sport, Blue Vervain, Pink Vervain, Crested Oval Sedge, Common Hop Sedge, Awl fruited Oval Sedge, Common Cattail Sedge, Fowl Manna Grass.


© 2006-2014 Everwilde Farms, Inc. All Rights Reserved.