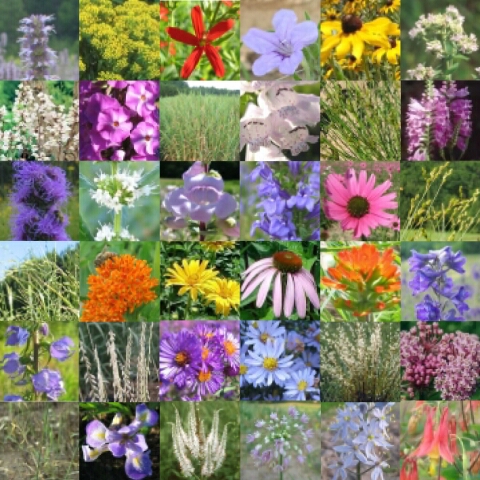 Native Wildflower Seed Mix – MESIC - Whisper of Wings

Imagine your landscape filled with nodding flowers and grasses, beckoning graceful visitors to its radiant display! Beauty invites! Expect to hear the whisper of wings in your deligtful haven especially designed to attract and feed Nature's winged creatures. Hummingbirds, Monarch Butterflies, and other feathered friends will fill your summer with the joy of living. From the Columbine's triumphant spring entry to the Aster's exploding finale 'Whisper of Wings' provides a long selection of color and food. Enchanting! If you would like to take a more detailed look at this wildflower seed mix in chart format, click here.

This Mix Contains 30 Species of Wildflowers & 8 Grasses Anise Hyssop, Prairie Onion, Wild Columbine, Swamp Milkweed, Common Milkweed, Butterfly Weed, Rice Button Aster, New England Aster, Wild Hyacinth, Tall Bellflower, Indian Paintbrush, Tall Larkspur, Purple Coneflower, Tennessee Coneflower, Early Sunflower, Northern Blue Flag, Button Blazing Star, Great Blue Lobelia, Wild Mint, Foxglove Beardtongue, Large-Flowered Beardtongue, Wild Sweet William, Narrow Obedient Plant, Obedient Plant, Hairy Mountain Mint, Black-Eyed Susan, Wild Petunia, Royal Catchfly, Ohio Goldenrod, Culver's Root, Little Bluestem, Side-Oats Grama, Plains Oval Sedge, Path Rush, Upland Wild Timothy, Rough Dropseed.


© 2006-2014 Everwilde Farms, Inc. All Rights Reserved.