About Us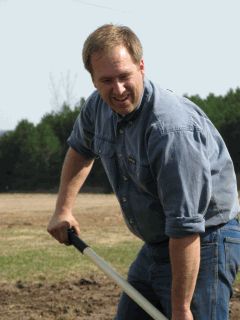 Everwilde Farms is a unique company that works with seeds from several arenas, and brings them all under one roof. We have native wildflower seeds, popular annual garden wildflower seeds, open pollinated herb and vegetable seeds, as well as a full line of organic herb and vegetable seeds. We have put a lot of thought into our packaging, and now offer all of our seeds in a new version of the resealable Gold Vault Mylar Zip Packet that has been a great success over the past few years. All of our seeds are GMO-free, and we have very few hybrids, which means that you can save seeds from your own garden to plant for next year.
We are a family-owned company and have had a lot of hands-on experience with growing the types of seeds that we sell, so you can rest assured that we are not just another mass-marketing company that happens to sell seeds. Our family has actually been farming for many generations, so this is nothing new for us. You will find the gold of our honesty and work ethic shine through in every package of GMO-free seeds for sale that you purchase from Everwilde Farms.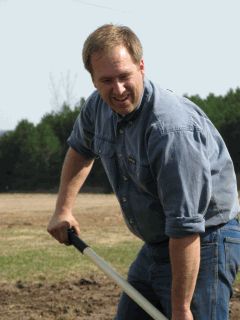 History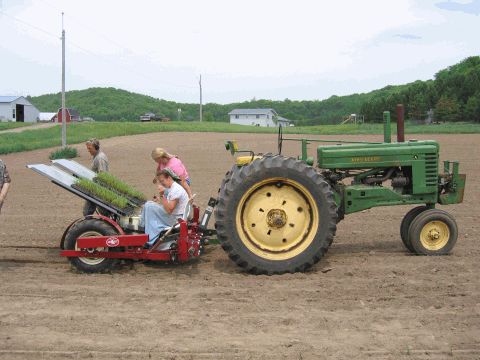 Everwilde Farms began as Jubilee Nursery in 1996 when Steve Sykora began growing a few species of native plants for seed. Things grew from there. Here is how Steve tells the story:
"I found a nursery in MN that was looking for growers to grow native wildflowers for seed. The idea of having fields of flowers intrigued me, and so I began growing 4 or 5 different native species on 1/10th of an acre. In 1999 I experimented with about 20 species on about 1/4 acre.
"In the spring of 2000, I was ready to leave my day job at an agricultural engineering office, and launch out into the wildflower field. I began by building a greenhouse to start the seedlings in. That year I started about 25,000 seedlings of about 15 species and planted them out on 2 acres. The next year I had 30 species on 4 acres. That year I faced some challenges as my greenhouse blew down in a windstorm. It was fall before I was able to rebuild it.
"I married my dear wife Janelle in the summer of 2002. Together we were able to keep up with the weeds and harvesting. The spring of 2003 saw 50,000 more seedlings go out of the greenhouse and into the fields, bringing us up to 70 species on 6 acres. We nearly doubled in size in 2005, putting out another 100,000 seedlings. Doing that many seedlings required us to purchase some more machinery like a rotary transplanter and to hire some help. It seems like we are continually growing into new fields..."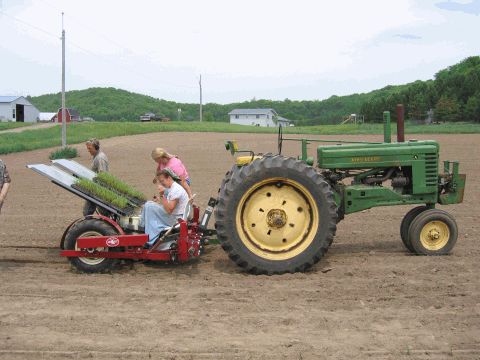 After 10 years of wholesale growing, Everwilde Farms began to retail our wildflower seeds to those that were interested in our local area. We also started selling our wildflower seeds on the web. We found that people had a tremendous interest in our seeds, and our lifestyle. We started a Wildflower Journal where people could keep up to date on the happenings around our wildflower farm. We had such an interest that we began to carry seeds that were native to other parts of the US, as we had requests from all over the country for wildflower seeds that were native to their own locations. We increased the species of plant seeds for sale that we had to offer, and began to get requests for vegetable seeds as well.
Everwilde Farms began to sell GMO-free vegetable seeds and herb seeds alongside the flower and grass seeds, and this was well-received by our customers. We focused on open pollinated and heirloom vegetable varieties, as it mirrored the seed saving work that we were doing with the natives. Things grew, and we broadened our selections by getting seeds in from growers in the Western US. We also bought a small farm in Central WA.
In 2015, we had to sell the WI farm and the WA farm due to some family health issues. We bought some land in California, which we are now using for flower production and our trial gardens. This keeps Everwilde Farms close to the land, which is where our heart is. We also network closely with other growers around the country to source new varieties for our gardens.
In Oct 2020, we purchased an avocado grove in Fallbrook California, and decided to consolidate all of our operations to Fallbrook. In Nov 2020, we moved our seed inventory to Fallbrook, so that we could manage both the farming and the seed shipping from one location. Thank you all for your continued support during this transition!