There are many gardeners who love adding native plantings to their property, and many native species will be drought tolerant as well as hardy. However, planning a drought tolerant landscape (also called Xeriscaping) is not the same thing. The difference with drought-tolerant plantings is that each variety is selected for water conservation and they won't necessarily all be native plants.
What are the benefits of Xeriscaping? A drought-tolerant landscape can reduce water use by as much as 60%. They also tend to be quite low-maintenance, cutting down on time spent pulling weeds and watering. There will be savings in cost as well, with less money spent on fertilizer and equipment.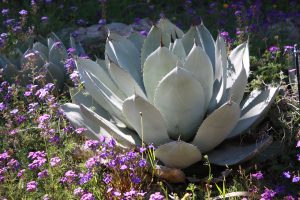 There are 7 steps to setting up a drought-tolerant landscape:
Create a plan. It can be helpful to draw a plan of your property, including your house, driveway, and established trees. Draw an outline where your new plantings will be, so you can visualize how they'll be affected by shade and where you'll have the best view.
Make sure the soil is ready. Adding compost can help with water retention, although some desert plants prefer gravel soils. You can select plants to fit the soil you have or amend the soil to fit the plants you have chosen.
Choose an efficient irrigation plan. Xeriscape can be easily watered by hand or with an irrigation system. You'll want to avoid sprinklers that throw water high in the air. Water rarely but deeply.
Group plants by type. For the best results and easier care, keep plants with similar water and sun/shade requirements grouped together. For plants that require more water than others, place them in low areas or in the shade of larger plants.
Don't forget mulch! Mulch will help hold in moisture and keep roots cool. It also keeps weeds from sprouting. Bark chips should be applied 2-4 inches deep. Some gardeners use stones, but these tend to make the area hotter and should be avoided.
Keep lawn to a minimum. Xeriscaping can include areas of lawn, but only where they'll actually be used. If you want a patch of green for a picnic table or croquet, consider native grasses like Buffalo Grass and Blue Grama that require a fourth of the water that bluegrass needs. Warm-season varieties like these will stay green through summer, then turn brown.
Maintenance. Any landscape will need some care to stay at its best, through pruning or thinning as needed. Keep your mulch built up and any weeds pulled, and your water-efficient landscape will keep beautifying your garden for many years!
Here are some suggestions for plants to select for your drought-tolerant landscape, click the links to learn more about each variety and to find great growing tips!
Copyright 2019 Everwilde Farms